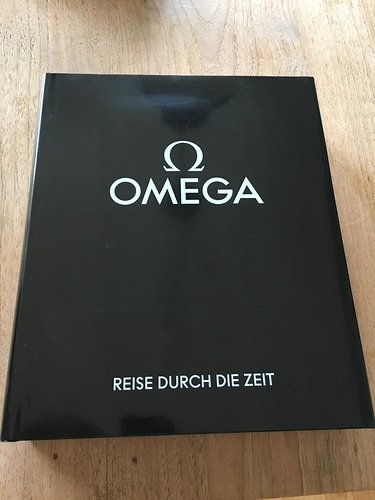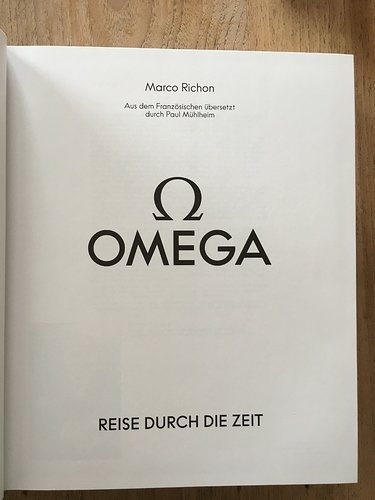 Dit betreft de duitse versie, vraagprijs 450 euro
Info:
This is a substantial book of over 800 pages and is both an interesting read as well as being an invaluable resource for all Omega enthusiasts and collectors.
It weighs in at just over 4 kilos and measures approximately 31 x 27 cm.
There are only 10,000 copies in circulation: 5,000 in English (Omega – A Journey through Time); 3,000 in German (Omega – Reise durch die Zeit); and 2,000 in French (Omega – Voyage à travers le Temps). The book is intended mainly for collectors.
Omega publishes definitive 832-page anthology
Omega SA, one of the world's most famous watch companies, has published a brand new 832-page book entitled A Journey Through Time, devoted entirely to the evolution of Omega's models from the late 19th century to the current day.
The work of Marco Richon, curator of the Omega Museum in Bienne, the book is available in English, German and French and it contains 6,625 illustrations, 70 per cent of which are in four-color printing and most of which are being published for the first time.
A Journey Through Time, one of the most comprehensive works ever published about a watch brand, is prefaced by Swatch Group Chairman Mr Nicolas G Hayek and is organized like a "structured catalogue," divided into 12 chapters:
Sister brands (Brandt, Gurzelen, Labrador, Regina, Helvetia, Patria, etc.)
Pocket watches (from 1894 to 1981)
Wristwatches (from 1900 to 1971)
High Precision (pocket and wrist chronometers, repeaters, exploits and records)
Official watches (railways, hunting, military, celebrities, etc.)
Automatic (from 1943 to 1980)
Seamaster (since 1948 and even 1932 for diving watches)
Constellation (since 1952)
De Ville (since 1960)
Specialities (travel clocks, moon phases, Century, Geneva, electronic, Louis Brandt, Museum, automobile-plane, etc.)
Chronographs (pocket and wrist, Olympic, counters and Speedmaster)
Creation (from the Greek Temple in 1900 to the Iris collection in 2005).
The 12 chapters are preceded by a brief history of the company and followed by a complete list of every calibre ever made by Omega.
A Journey Through Time is brought to life with reproductions of numerous advertisements, which echo the watches shown and lend them the color, feel and flavour of their time. The book is printed in 25 x 31 cm format, features cloth binding with a laminated dust jacket and weighs 4.3 kilograms.