Dietrich Gruen
Birth: Feb. 22, 1847, Germany
Death: Apr. 10, 1911, Italy
A native of Osthofen, Germany, he was a pioneer of the pocket watch. Gruen was educated in public and private schools and learned watchmaking as an apprentice to Hans Martens in Friedburg. While studying at the Deutsche Urhmacherschule (German Watchmaking School) in Glashütte, Germany, Frederick Gruen became acquainted with Paul Assmann, whose father Julius had founded a successful and highly-regarded watch company whose clients included A. Lange & Söhne, a premiere German watchmaking firm. In 1894, Frederick, Dietrich Gruen, and Paul Assmann founded their own company in Glashütte. It was called Grünsche Uhrenfabrikation Grün und Assmann. This 1894 photograph, taken to commemorate the founding of the new firm, shows Dietrich Gruen (center) sitting arm-in-arm with Frederick (left) and Paul Assmann (right). The young boy at the far right is Paul Assmann's son Ernst, who moved to Ohio in 1905 to work at the Gruen Company.
Dietrich Gruen began his watchmaking career as an apprentice. When he was fifteen, his family sent him south to the Black Forest region to learn the watchmaking trade. He apprenticed first in Eichstetten, and then in Karlsruhe, Wiesbaden, and Freiburg. He may have also studied in Switzerland. Although best known for producing cuckoo clocks, the Black Forest region was also home to highly skilled makers of pocket watches, with whom Gruen studied. After emigrating to America in 1867, he married the daughter of a watchmaker and went to work for her father in Delaware. In 1874, he moved to Columbus, Ohio and established the Columbus Watch Manufacturing Company.
On June 12, 1874 Dietrich Gruen applied for a patent on an improved safety pinion, which was granted on December 22. He was 27 years old. (During his time in the city of Delaware, Dietrich developed an improved center pinion for watches. He submitted his patent on June 12, 1874, explaining that his pinion design would protect the wheel train of a watch if the mainspring broke or became detached. Dietrich's design may have been influenced by the years he spent working as a watch repairman, for he had seen the damage that could result from a broken mainspring. Gruen's "safety pinion," as it became known, was the foundation of his business ventures.)
In 1876 he formed the Columbus Watch Manufacturing Company in the basement of a downtown Columbus, Ohio bank building.
In his Columbus workshop, Dietrich modified, finished and cased raw movements that were imported from Switzerland. These new watches included his patented safety pinion. Dietrich introduced 16-size watches as an alternative to the heavy and thick 18-size and larger watches that were prevalent at the time. He also introduced the first stemwind watches sold in the U.S. market.
As the company grew, they moved to two floors in a commerical building a few blocks away.
In 1882, in collaboration with a number of new partners, the company was reorganized as the Columbus Watch Company and moved to a newly-constructed factory building located on Thurman Street, in the 'German Village' section of Columbus. Dietrich was President of the new corporation.
By 1888 production was about 45 watches per day; the company would grow to 300 employees and output to 150 watches per day. Although the company continued to issue stemwind watches, they also manufactured keywind movements for some of their less-expensive models.
After a series of disagreements with the other partners, Dietrich Gruen and his son Fred left the Columbus Watch Company in 1894, shortly before the business went bankrupt. Dietrich had lost his share of the company to the investors, and was faced with the prospect of staying on as a salaried employee at the company that he had founded. He chose to leave rather than bear this indignity. After the departure of the Gruens the firm was reorganized, refinanced and renamed "The New Columbus Watch Company."
The New Columbus Watch Company survived until 1903. The contents of the factory, including all the tooling and stocks of movements, were eventually purchased by the Studebaker family, moved to Indiana (along with many key employees) and used to start the South Bend Watch Company. Some early South Bend watches were sold with signed Columbus movements in them.
In 1894, Fred Gruen and Dietrich Gruen decided to try to start a new watch company. Using money borrowed from friends and relatives, Dietrich and Fred formed the partnership "D. Gruen and Son.".
These first Gruen watches are of very high quality and are beautifully made. Both 18 and 16 size versions were manufactured, each in both open face and hunter styles, and in 18- and 21-jewel versions. The earliest D. Gruen & Son serial numbers started around 62000. The Gruens dealt directly with individual jewelry stores; there were no wholesalers or jobbers involved in the distribution of their watches.
In 1898 George Gruen joined the firm as treasurer and financial officer. The company incorporated and its name changed to D. Gruen, Sons & Company.
In 1903 Gruen introduces its "VeriThin" line of watches.
In 1908 Gruen introduced both men's and women's wristwatches. These proved popular only with women. Gruen was one of a very few companies to take wristwatches seriously this early, seeing their potential in spite of disappointing early sales to male customers.
Gruen made both wrist and pocket watches for the military during World War I. Most had silver cases, which would tarnish but would not corrode under adverse conditions. To satisfy U.S. military regulations, these watches all have luminous dial markings and hands.
1911 Dietrich Gruen dies suddenly. Gruen died from heart failure while on a business trip on the steamship "Berlin" off the coast of Italy in 1911 when he was 64 years old. Fred Gruen (son) takes control of the company.
In 1913 the company purchased Nanny Goat Hill, a pasture just outside of Cincinnati, and renamed it Time Hill. Work began on a new building designed by architect Guy C. Burroughs at a construction cost estimated at $50,000 USD. The company moved to the new location in 1917.
1921: Gruen introduces The Cartouche wrist watch calling it "The logical wrist watch shape".
1922: Gruen introduces "The Pentagon" pocket watch. "the Croix de Guerre of American achievement"
Up until 1922 there had actually been three Gruen companies: D. Gruen, Sons & Company; The Gruen National Watch Case Company of Cincinnati; and The Gruen Watch Manufacturing Company of Biel, Switzerland. In 1922 all three businesses were merged to form the Gruen Watch Company, with Fred as President.
In 1924, Gruen released a special pocket watch in an edition of 600 to commemorate their 50th anniversary. The watch cost $500 at the time.
In 1925, Gruen introduced the men's Quadron. These were rectangular watches containing very high-quality 15-j or 17-j tonneau-shaped movements.
In 1928 Gruen releases The Techni-Quadron. The famous Techni-Quadron "doctor's watches" are so-called because the large seconds dial was handy for timing a patient's pulse.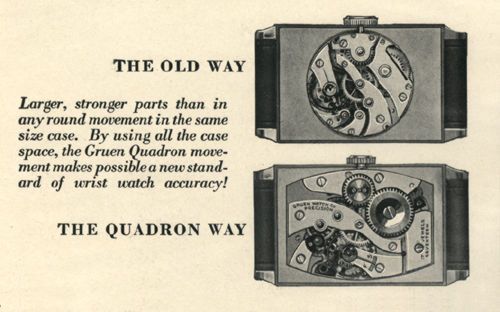 In 1935 Fred Gruen, now 63 years old, became Chairman of the Board and Benjamin S. Katz was brought in as President of the Gruen Watch Company. In 1935, Gruen was about $1.8 million USD (roughly $36 million USD today) in debt; nervous stockholders and investors were behind the change. Fred would retire in 1940, but continued to sit on the board for the rest of his life.
In 1935 Gruen introduces the most famous Gruen wristwatch- "The Curvex". These watches are one of the greatest examples of 1930s streamlined design.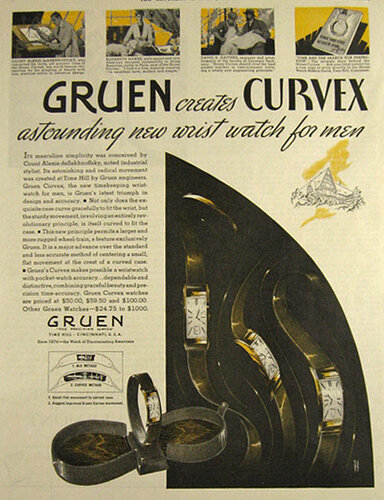 1937: Gruen introduces "The Ristside" or "driver's" watches.
In 1938, continuing the success of their VeriThin pocket watches, Gruen also launched a series of Veri-Thin wristwatches. Contemporary Curvex and Veri-Thin movements often are closely related, and can share many parts. By the 1940s, most Gruen wristwatches were either Veri-Thin or Curvex models.
Although Gruen did not manufacture watches for the U.S. military, they offered the public a collection of eight military-style watches, to be used as personal watches.
In 1949, the company introduced their first watches made entirely in the U.S., a line of 21-jewel men's models called the "Gruen 21". The movements are marked "Cincinnati" or "US" instead of the usual "Switzerland."
Fred Gruen retired in 1940 and died in 1945, and his brother George died in 1952. In 1953 the Gruen family sold their interest in the company. The same year, Gruen president Benjamin Katz was forced into retirement after a scandal, and in 1954 the company bought out his shares for $2 million USD.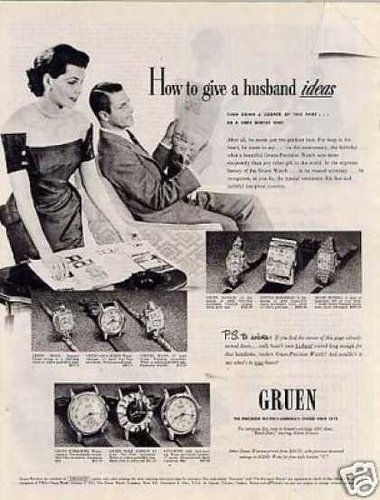 With the changeovers in management and the loss of the Gruen family's involvement, the company lost focus and direction. In 1953, the Gruen Watch Company had its highest sales in its entire history. By 1958, the company (which had changed its name to Gruen Industries) was facing massive legal problems, had laid off most of its employees, and was selling off its properties, including Time Hill. Gruen Industries was so deeply in debt, and had already borrowed so much money, that they were unable to secure additional financing. The board of directors and stockholders were making newspaper headlines with petty squabbles and proxy fights. The company was falling apart, having seriously neglected the watch business as they pursued other activities (watch manufacturing was now relegated to a subsidiary division of Gruen Industries). The company bought the Canadian branch of Waterman Pen in May of 1956, selling off Gruen's own Canadian watch distributorships to finance it, then sold Waterman again in November of the same year, at a loss. To add to their problems, an $8 million USD military contract was cancelled and the company was hit with anti-trust lawsuits by the U.S. government.
Under new ownership, Time Hill was closed and the Gruen watch business moved to New York, continuing to produce mechanical watches for about another 15 years. All of the pre-1958 factory records, of no interest to the new owners, were destroyed. Rolex eventually purchased the Precision Factory and now it's a Rolex administration building. According to the Cincinnati Business Record, this incarnation of the Gruen Watch Company failed in 1976.
Post note; currently, some companies are using the names of a classic (defunct) watch companies like Elgin, Benrus, Waltham, and Gruen to market new watches. They sometimes purchase the rights to the brand names, and other times they simply use the brand names of companies where the trademark has expired. These watches may hold the name, and are sonetimes styled exact replica's of the original, but should not be confused with an orignal "vintage" watch. The watches are very different from the originals. Internally they use mostly quarz (battery) movements, instead of a mechanical one, and may not have the same quality or essence as the original. Please understand that I am not recommending against the purchase of these watches, only stating that the buyer should understand the difference.
Een mooi voorbeeld van een Gruen zakhorloge:

Bron: - TheWatchGuy.com
- Wikipedia
In depth article: http://immigrantentrepreneurship.org/entry.php?rec=219
Heb jezelf aanvullingen, foto van Gruen horloges ed?.. plaats ze hieronder