Had altijd wel een hoge pet op van Antiquorum, maar na onderstaande van MWR forum gelezen te hebben…
Fake SM300 spotted in Antiquorum Omegamania Auction Catalog!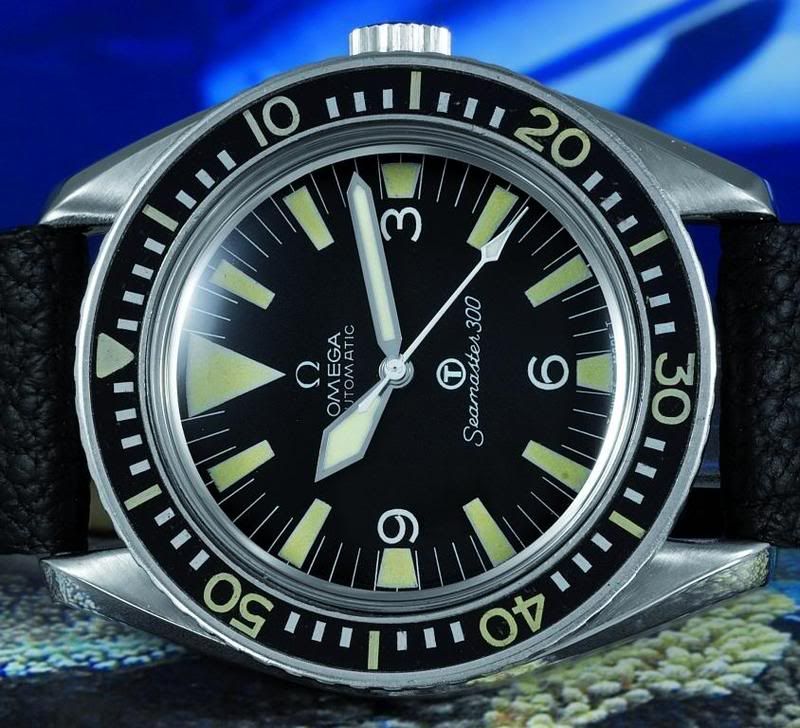 (Image cropped from Antiquorum listing)
This watch is currently featured in the online catalog for the upcoming Antiquorum "Omegamania" thematic auction. The listing can be seen here - see lot#128. Amazingly, it's a blatantly obvious Asian fake!
I can't take credit for spotting this - it was first pointed out by another collector in another forum. But this is a good chance to show just how many people can get fooled by fake vintage SM300's, and how they're often easy to spot if you know what to look for.
Below is an excerpt the text from the Antiquorum listing:
Omega, "Seamaster 300 Automatic", No. 27491751, Ref. CK 14755-61. Delivered on March 25, 1970, to the British Special Air Service. Fine, center seconds, self-winding, water-resistant, military diver`s wristwatch with a revolving black bezel and an Omega buckle. Back engraved with the military arrow and the numbers "W 10/6645-99-923-7697, A/254/67". This watch is sold with a box, Certificate of Authenticity and 2-year Omega guarantee. Property of a Swiss Gentleman
C. Three-body, solid, polished and brushed, lyre lugs, revolving black bezel for decompression timing, with a "0-60" scale, screw-down back engraved with the British ordinance arrow and inventory number.
Listing all the problems with this one would be exhausting so I won't try, but here are a few of the most easily spotted:
"Stubbies" - the hour markers on the forged dials have the white hash marks radiating outward at the edge of the dial underneath, a feature common to many Asian-made forged dials but no originals.

SM300 case ref. 14755 SHOULD look like this:


Date markings do not agree. The -61 date code inside the caseback does not agree with -67 "military" date marking on caseback outside, nor the 1968-1969 date range for 27-million S/N#'s, nor the supposed 1970 delivery date given in the listing. No 2 dates match!

Military markings are false. The A/254/67 markings are actually copied by the forgers from photos in Kesaharu Imai's Military Watch Encyclopedia, a Japanese collector's book. Watches advertised as Royal Navy Issue SM300's marked A/254/67 should be assumed to be fakes.
4a. Since the markings are forged, the supposed SAS provenance is entirely false and an obvious misrepresentation.
There are many of fake SM300's out there; in fact, it may well be one of the most faked watches ever. It's almost hard to believe this one slipped by the Antiquorum and Omega "experts", whose oversight is inexcusable. But what's especially troubling is that it apparently includes a 2-year Omega warranty and certificate of authenticity. So in addition to promoting the auction, Omega may have even inspected and/or serviced this one, blessing off on a very obvious fake!
It's a jungle out there - watch your back and do your homework. And once again, still more evidence that something is very, very wrong at Swatch/Omega…