[center]AP Royal oak Concept Alacrite (150 pieces)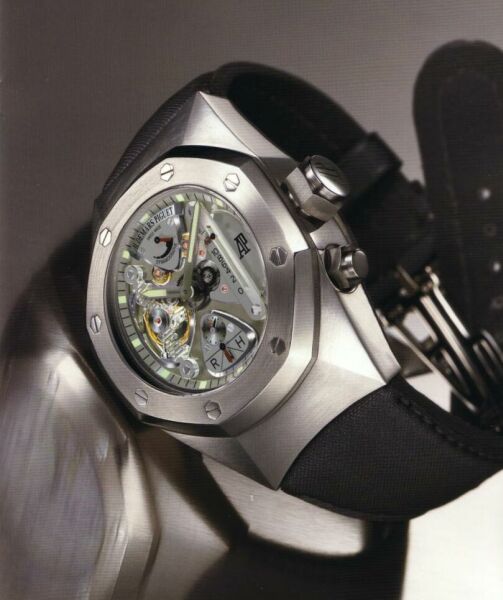 Alacrite 602 is a new super alloy consisting of 57% Cobalt, 31% chrome, 5% Tungsten, with trace amounts of carbon, silicon, and iron. This particular form of alacrite has a Vickers hardness rating of 430. Extremely difficult to machine, each Concept Watch case requires nearly 60 hours to complete
Dynamographe - shows instantaneous torque from the mainspring;
linear power reserve indicator, calibrated in barrel turns (one barrel turn equals approximately 6 hours of power reserve)
sub-second and crown function setting indicator (Remontoir / Neutre / Heures) (French for winding / neutral / time setting in English)
Tourbillon, with electro-eroded titanium shock suspension, giving a reported 50g's (!) of shock protection
retail price: $201,000.00 USD.
AP Royal oak Alinghi Polaris (2000 pieces)
Following its adventure with Alinghi, which has become the new 'Defender' of the America's Cup, Audemars Piguet also proposes the Royal Oak Offshore Alinghi Polaris, featuring, as its name indicates, a rotating flange to orient oneself as a function of the sun (all you former Boy Scouts would appreciate this). Still, the essential of the watch is elsewhere - in the flyback chronograph adapted to the complex procedure for the start of the America's Cup race. At the first shot, the minute hand in the centre makes the revolution of the dial in ten minutes. At the second shot, the flyback function stops the timing, goes back to zero, and restarts instantaneously. At the third shot, a red disc appears progressively in a window.
US$30,600
of een andere AP van tussen de $7000 en $12000 ongeveer
De vraag is dus wat zou je doen met $ 210.000,-
AP concept http://poll.dezeserver.nl/vote.cgi?pid=89312&aid=1
AP Polaris http://poll.dezeserver.nl/vote.cgi?pid=89312&aid=2
AP Royal Oak ( geen limited ) http://poll.dezeserver.nl/vote.cgi?pid=89312&aid=3

De Tussenstand

[/center]