Ik zeg er geen nee tegen…
Als je die Mercedes koopt krijg je die IWC horloge(s) er dan ook bij , als boord gereedschap.???
Of is het andersom,
Andre
Ik zie liever de auto dan het horloge

je krijgt die klok bij de auto en een klok in je auto. Ik vind dat wel mooi
nog zoon mooi voorbeeld van car meets watchmaker
het is weer eens wat anders dan een mercedes SL
car for the status-conscious deserves a high-status dashboard, and Cadillac has commissioned Bulgari, the Italian maker of jewelry and watches, to design the gauges and clocks in some of its new models, The New York Times reported Friday, Oct. 18.
A Bulgari-designed clock is in the 2003 Escalade and Escalade EXT sport utility vehicles and in the Escalade ESV, an S.U.V. due out in December, the Times reports. The Bulgari name is on the face of the clock and on the brushed metal circle around it.
Bulgari also designed the dashboard gauges and the key fob, which operates the remote control for the doors, for Cadillac's 2004 XLR, a two-seat roadster that goes on sale in mid-2003. Neiman Marcus is offering a special edition of the car in its Christmas catalog for $85,000. Buyers of the XLR can also purchase a $3,000 limited-edition Bulgari watch designed to match the car.
While these are the first Bulgari touches in working Cadillac models, Bulgari has also designed instrument panels and clocks for Cadillac concept cars, including the Evoq, which inspired the XLR, the Times reports. Nicola Bulgari, vice chairman of Bulgari S.p.A., is an automobile aficionado who owns many Buicks and Cadillacs, including the second-to-last Cadillac Eldorado ever made.
Cadillac has been trying to reinvent itself lately with new technology and avant-garde styling; at the same time, it is trying to establish itself as a global brand, the Times reports. Bulgari fits both goals.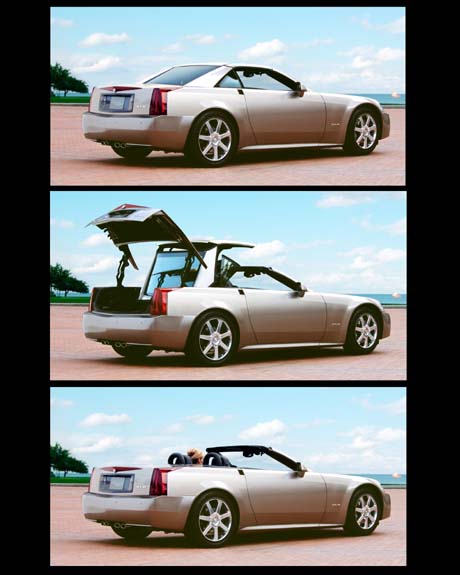 Ik las het al in de Watching!
Super gave klokken. Laat ik dan die auto ook maar er bij kopen
haha
Gelukkig is de Mercedes een automaat zo te zien, anders moest je hem nog met de hand aanslingeren…
gr,
Hans Mennink