Zo van de site:
http://www.nomos-glashuette.com/
IN-HOUSE BUILT CALIBER DUW 3001

An entirely new automatic caliber and the first to be equipped with the NOMOS swing system. Measuring a mere 3.2 millimeters in height, this movement is incredibly thin and extremely precise. And this precision is tangible. The caliber is 94.2% efficient—there is effectively only 5.8% loss in energy due to friction (the missing 5.8% from the 100%), which is quite an accomplishment as this figure is typically closer to 20% in traditional automatic movements. For those familiar with such statistics, this figure might seem almost unbelievable.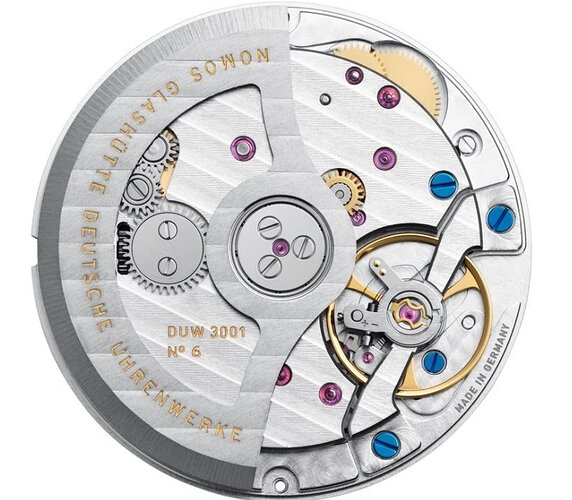 DUW 3001 combines the latest in high tech production techniques with, as always, meticulous hand fabrication, finishing and assembly. An in-house escapement, the NOMOS swing system, regulates the precise ticking and allows the caliber to be capable of chronometer accuracy. DUW 3001 naturally also features the other characteristics that Glashütte timepieces are renowned for: Glashütte three quarter plate, Glashütte sunburst, and tempered blue screws to name a few.
Data:
DUW 3001—in-house NOMOS caliber with automatic winding; NOMOS swing system with tempered blue balance spring. (DUW stands for NOMOS Glashütte Deutsche Uhrenwerke.)
Diameter:
12 ¾ lines (28.8 mm)
Movement height:
3.2 mm
Power reserve:
approx. 42 hours
Characteristics:
Decentralized seconds, stop-seconds mechanism, Glashütte three-quarter plate, NOMOS balance bridge, 27 ruby bearings, bidirectional winding motor, Incabloc shock protection, adjusted in six positions, tempered blue screws, rhodium-plated surfaces with Glashütte ribbing and NOMOS perlage